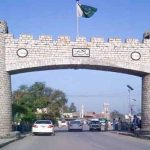 KOHAT: District police Saturday arrested alleged killer of his wife Ijaz Muhammad son of Eid Muhammad.
The police spokesman said that the police have arrested him from Ali Zai area. Ijaz Muhammad son of Eid Muhammad had allegedly shot dead his wife Yasmeen Bibi inside his home situated in Hafizabad Kohat and had escaped on his motorcycle from the crime scene.
Soon after getting informed regarding murder of Yasmeen Bibi DPO Kohat Majeed Abass Marwat had issued orders regarding arrest of her murderer, consequently in a joint raid of DSB and police team alleged murderer of Yasmeen Bibi was arrested, pistol used in her murder along with cartridges and the motorcycle were also recovered from his possession.
FIR from Khutaij Bibi mother of deceased Yasmeen Bibi case against him has been registered in City police station of Kohat, arrested Muahammad Ijaz has confessed his crime before police.