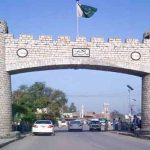 NOWSHERA: A man with the help of his son allegedly shot dead his daughter and her fiance over honour as he suspected the both have an affair.
The man — identified as Akbar Khan, a resident of Zaramina area — and his son, Ahmed Ali, allegedly killed his daughter and her fiance, Nazir Khan, when he was informed that his daughter soon-to-be husband had come to meet her in his absence.
According to police, both the deceased had liked each other for some time and were engaged a week ago.
Police said they have registered a first information report (FIR) on behalf of the brother of late Nazir Khan, the woman's fiancé, and commenced an investigation into the alleged "honour-killing".