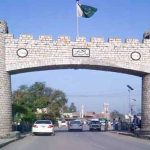 LAHORE: A man was arrested for slitting the throats of his three miner nephews in the Fazal Park locality of Shahdara on Friday.
The three children included six-year-old Azeem, three-year-old Waseem and one-year old Shakeel.
Police took the bodies of all three children into custody, and initiated an investigation into the incident.
The motive behind the killings could not be ascertained. However, citing preliminary investigation reports, police said the man had killed them in a fit of rage as he did not have his own children.
The man named Farhad fled after carrying out the killings. Later, police arrested him from Shahdara. The knife used for the murders was also recovered from his possession.