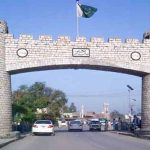 PESHAWAR: A man was caught at the Bacha Khan International Airport, Peshawar on Thursday trying to smuggle drugs hidden in fruits.
According to Airport Security Force (ASF), the man had hidden drugs inside oranges and pomegranates and wanted to smuggle them to Qatar.
He was due to board a flight, but was caught during screening of his goods. The passenger had hidden charas weighing more than four kilograms inside the fruits.
The ASF personnel have taken the man into custody and began investigation. Sources at the airport said joint search counters were helping the Airport Security Force in catching all such elements.
Earlier in the day, the Anti-Narcotics Force (ANF) claimed to have foiled a bid to smuggle drugs out of the country by nabbing two suspected smugglers at the Islamabad airport.
ANF officials said one kilogram of heroin amounting to millions of rupees was seized from the possession of the arrested smugglers. They were to board a Doha-bound flight (QR-633).
The accused allegedly had links with an international network of drug suppliers, claimed the officials.
It is pertinent to mention here that the ANF had earlier this week claimed to have seized 1995.475 kilograms drugs amounting to 1.684 billion rupees throughout the country. According to a press release, the ANF also arrested five culprits and impounded three vehicles while conducting seven counter-narcotic strikes on different places.