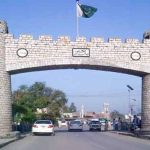 TANK: A man allegedly killed four members of his family including his wife two daughters and a son before shooting himself dead in Tank district on Tuesday.
According to police, the man named Syed Rasool killed his wife, two daughters and a son and then took his own life.
Two other children were also shot at and injured. They were shifted to a hospital for medical attention, said a police official.
The identities of the deceased and injured were not immediately known.
Last month, in a similar incident, a man had committed suicide in the city of Chiniot, Punjab after killing his wife and three children. The incident had taken place in the area of Rai Chand where a man named Mohammad Aijaz opened fire on his three children and wife before taking his own life.
Mohammad Aijaz killed his wife Rubina, 5 year-old son Abu Bakar, 4 year-old daughter Tehreem and 3 years-old son Murtazeen by firing at them, according to the police.
The family was said to be very poor and the couple used to argue over this issue more often than not.