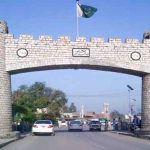 NOWSHERA: Police has registered an FIR against an elderly man for trying to rape his five-year-old grand-daughter in Nowshera.
A police official told the media that a woman lodged an FIR with Pabbi police, stating that she gave supper to her five-year-old daughter to take it to her grandfather, but when she returned, she was crying.
"I asked the child what happened to her and she said that her grandfather Mir Basher tried to rape her but when she started crying, he left her," she informed her, saying that the accused Mir Basher is her father-in-law and he married thrice.
"One of his wives is dead. Another one is suffering from mental ailments and the third one is living with him but even then he tried to rape my minor daughter," she told police.
Later the father of the victim also confirmed the incident to police, on which an FIR has been registered against the accused. Police said that the accused has been booked.