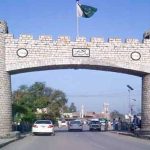 KARACHI: A suspected robber was killed and a police officer injured in an exchange of fire between law enforcers and two assailants on a motorcycle in Karachi's Dalmia area on Friday.
The incident took place when two suspicious individuals on a motorcycle were asked by police to stop near Water Tank, Superintendent Police (SP) Gulshan Murtaza Bhutto said.
They, however, refused to stop and instead began firing at police and attempted to flee, the SP said. A police officer identified as Rana Arshad was injured in the firing and taken to Abbasi Shaheed Hospital.
When police returned fire, one of the assailants, Salman, was injured and succumbed to his wounds on the way to the hospital, the SP said. A 30-bore pistol and four rounds of ammunition were recovered from his possession, along with the motorcycle.
The other assailant, identified as Riaz, was arrested by police and confessed to involvement in the killing of a student, Asad, in Gulistan-i-Johar Block 1 on March 14, SP Bhutto said, adding that Riaz had also confessed to involvement in various incidents of street crime and robbery.
Police are searching for a third suspect, Nadeem, the official said. The three suspects are believed to be part of a group of robbers that police have been attempting to track down since the murder of Asad last week.
In a confessional video, Riaz is asked what happened the day of the killing. He said: "We went there that day. Salman said, 'I have a friend, Baloch. Let's go there'."
"When we went there, Salman didn't introduce us to Baloch. We went to a kiryana store, and he said we needed to commit a robbery. We looted the store and took the money. When we were leaving, a boy came and tried to take the stuff from Salman but Salman didn't let him. I don't remember if he moved forward or back. As soon as the boy started running, Salman fired at him from behind. Then we got on the bike and left," he claimed.