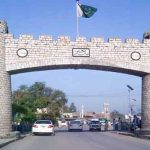 NOWSHERA: A man was killed in the name of honour in Nowshera district of Khyber Pakhtunkhwa on Tuesday, police said. According to police, 24-year-old Sohail Khattak was shot dead in Jalozai Bazaar. The deceased's father said in the report with police that his son Sohail Khattak, who was father of a child, had illicit relations with another married woman from Bakhti village of Cherat. He said the husband of the woman came to know about the illicit relations and deceived Sohail by sending him a text message from his wife's mobile phone asking him to come to Jalozai Bazaar. He then allegedly shot dead Sohail in the bazaar.
Sohail died in the firing on the spot, while another person sustained injuries. The body and the injured were shifted by Rescue 1122 to Mian Rashid Shaheed Memorial Hospital, Pabbi.
From 2010 till 2019, as many as 475 women and 361 men have been killed in the name of honour in KP.