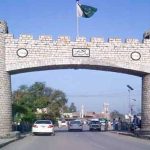 MARDAN: The union council which reported the first death in Khyber Pakhtunkwa's Mardan district was placed under lockdown by the district administration for an indefinite period of time.
"Whole of the union council is declared critical, hence complete lockdown of the Union Council Manga is ordered with immediate effect and there shall be no entry and exit," said a notification from the Office of the Deputy Commissioner, Mardan.
Meanwhile, in Haripur district, 22 people, including the Deputy superintendent of police (DSP) got tested for coronavirus. However, the test results have yet to be received. The individuals have been shifted from Khanpur rest house to other places.
A day earlier, KP government confirmed Pakistan's first two COVID-19 deaths in Mardan and Peshawar.
KP CM's Adviser on Information Ajmal Khan Wazir said the first deceased, a 50-year-old patient, had arrived from Saudi Arabia on March 9.
The deceased's coronavirus test, he said, came positive yesterday (March 17). He hailed from Manga village, the adviser added.
The second patient, a 36-year-old man from Hangu, had arrived in the country from Turkey via Dubai, said Wazir. He was also tested positive yesterday, he added.
In wake of a surge in novel coronavirus cases across the country, provincial governments set out for a lockdown on Thursday to contain the outbreak.
The deadly pneumonia-like virus, which surfaced in China's Hubei province late December 2019, has infected over 200,000 people globally with over 9,000 deaths. Although scientists around the globe are developing vaccine and medication, the only defence against the virus currently is preventive measures– self-isolation or quarantine.
Pakistan's tally of the COVID-19 patients crossed 300 on Wednesday with Punjab confirming a total of 33 cases.