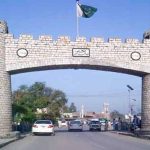 MARDAN: A student of Abdul Wali Khan University Mardan was killed and another injured by a vigilante mob on campus Thursday for allegedly publishing blasphemous content online, according to police.
At least 15 people have been arrested in connection with the incident, and the campus has been shut down until further notice. The hostels have been vacated and a search for the culprits is ongoing.
Deputy Inspector General (DIG) of Police Mardan Alam Shinwari said the student was accused of running Facebook pages which allegedly published blasphemous content. He was assaulted by a group of students and appears to have succumbed to a gunshot wound, the DIG said.
The deceased has been identified as Mashal Khan, a resident of Swabi and a student at AWKU's Journalism and Mass Communication department.
A friend of the deceased student said that a mob of agitated students first shot him in the head and chest and then thrashed his desecrated his body using sticks.
An eyewitness at the scene of the incident said that Mashal and Abdullah, two Mass Communication students, were believed to be promoting the Ahmadi faith on Facebook.
A mob of university students surrounded Abdullah in his hostel room. He was forced to recite verses from the Holy Quran. Despite this, the students beat him.
The police, when alerted, reached the site of the attack and rescued Abdullah, after which the mob set its sights on Mashal who was in the hostel at the time, the eyewitness said. Mashal was beaten and shot by the mob, and succumbed to his injuries.
Hostel warden Muhammad Ali claimed: "Three to four thousand students were approaching. I was alerted that they were approaching, so I closed the gates but they broke in, found Mashal and fired at him and started beating him."
Students said police had been alerted of the incident and were present on campus at the time. When asked why they didn't intervene, the police said there were too many people in the mob for them to take on.
The body has been shifted to District Headquarters Hospital for an autopsy.
Following the incident, AWKU Assistant Registrar Ashoor Khan issued a notice stating the university will be closed until further notice.