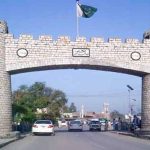 SWABI: Nadir Hussain, an FC official who embraced martyrdom in a terrorists attack on Saturday, has been laid to rest amid full military honours in his native town in Swabi.
Provincial Information Minister Shoukat Yousufzai, other military leader and a huge number of residents were witnessed in attendance when the youth FC official was laid in his grave at the graveyard.
Nadir Hussain belonged to Saadat tribe and hailed from Yaqoobi union council of the Swabi district.
He was only 25-year-old and was deployed in Balochistan around three years ago.