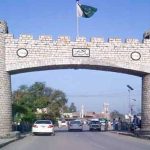 LAHORE: Maryam Nawaz's son Junaid Safdar has arrived in Lahore to meet his mother, father Capt. Retd Safdar and grandfather Nawaz Sharif, the supreme leader of Pakistan Muslim League-Nawaz (PML-N), in Adiala Jail.
Junaid Safdar has travelled from London to Lahore where from he will go to Adiala Jail to meet his mother, father and grandfather.
Meanwhile, sources within PML-N have said that Junaid Safdar will also participate in the party's election campaign.
The sources also said that Junaid Safdar has replaced her mother to run social media platform of PML-N.