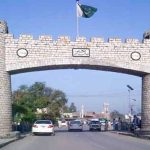 PESHAWAR: Khyber Pakhtunkhwa police Saturday received postmortem report of Mashal Khan—a Mass Communication student of Abdul Wali Khan University located in Mardan.
According to investigators, Mashal Khan received two bullets; one of the gunshots caused his death.
Police said 12 mobsters nominated in the lynching FIR have gone underground. Police are conducting raids to arrest them.
The accused include Arif, a tehsil council worker of Pakistan Tehreek-e-Insaf (PTI), according to police.