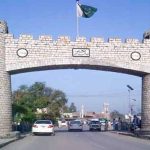 MARDAN: An Anti-Terrorism Court (ATC) in Mardan on Saturday remanded eight suspects into police custody in Mashal Khan murder case.
Local police produced the eight of the arrested suspects in the case before the court and requested their physical remand for investigation.
The ATC judge handed the custody of the eight suspects to police on four-days physical remand.
The suspected men were produced before the court aimed high security.
On the other hand, the postmortem report in the case was received by the police. The report confirmed that Mashal died because of a gunshot wound, while his body was severely bruised.
Meanwhile, Khyber Pakhtunkhwa Chief Minister Pervez Khattak approved the summary of a judicial inquiry into the lynching of a student at Abdul Wali Khan University, Mardan, on Thursday.
On Friday, during a session chaired by Deputy Speaker Dr Mahar Taj Roghani, the chief minister responded to criticism by lawmakers who condemned Mashal Khan's brutal death at the hands of a mob of students merely on an allegation of blasphemy.
Khattak told the KP assembly that no evidence was found to suggest Mashal Khan committed blasphemy and said, "The mobile phone record of the victim has been checked by the police but there was nothing against Islam."
"The government has already decided to conduct a judicial inquiry into this heinous crime," he had said and added that such an incident should not have occurred and the government was worried about it.
"Since the occurrence of the incident, I am in contact with the IGP and so far no evidence has emerged to show that blasphemy was committed by the victim," he had said, adding that such brutality would not be tolerated.