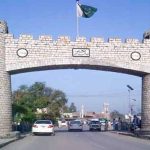 PESHAWAR: The man who shot Mashal Khan and 12 others given various jail terms for participating in his lynching on Thursday challenged their convictions in the Peshawar High Court (PHC).
The 13 men were among those convicted by an anti-terrorism court (ATC) earlier this month in the Mashal Khan murder case. The ATC had awarded the death sentence to prime accused Imran Ali, life imprisonment to five other convicts, and three-year jail terms to 25 others.
Syed Akhtar, the counsel for the 13 convicts, on Thursday filed an appeal against the death sentence handed to Ali and the jail terms awarded to five others in the Abbottabad Circuit Bench of the PHC on Thursday.
Akhtar said that he had earlier also filed appeals on behalf of seven other convicts. A total of 13 appeals have been filed against the convictions announced by the ATC over the course of this week.
The counsel pointed out what he termed contradictions in the detailed judgement, and urged the high court to release his clients after setting aside the ATC verdict.
"The verdict is not accordance with the law as no witness appeared in the trial court to testify that Imran Ali had opened fire on Mashal Khan," Akhtar said. He also claimed there was no proof or video evidence to show that Imran was present at the time of Mashal's killing.
Akhtar challenged the verdict on the grounds that as per the medico-legal report, the cause of Mashal's death was torture and beating, not gunshot wounds, which he claimed proved Imran's innocence.
Imran had also pleaded not guilty to opening fire on Mashal during the trial, his lawyer stressed.