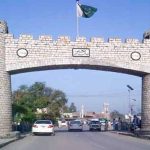 PESHAWAR: Father of Mashal Khan, who was lynched at Wali Khan University Mardan, has challenged the decision of an anti-terrorism court, which had acquitted some accused and awarded life imprisonment to others.
Iqbal Khan, father of Mashal Khan, submitted appeals in Peshawar High Court through Barrister Amir Khan Chamkani on Friday. The anti- terrorism court had acquitted Izhar and Sabir while Asad Zia and Arif were sentenced to life imprisonment.
Iqbal Khan appealed to the high court to convert the life imprisonment into death sentence.
The Anti Terrorism Court (ATC) had sentenced Arif Khan,Pakistan Tehreek-e-Insaf (PTI) councillor, and Asad Katlang to life imprisonment.
The ATC had acquitted two suspects Sabir Mayar and Izhar Joni for lack of evidence.
The convict were involved in the lynching of Mashal Khan after accusing him of blasphemy.
The brutal murder had sparked countrywide outrage.
As many as 61 people were nominated in the brutal lynching of the student.
In January an ATC judge in Abbottaad had convicted six people in the case, handing down death sentence to one convict while life imprisonment to five others.
Judge Fazal Subhan had acquitted 26 other suspects nominated in the case.