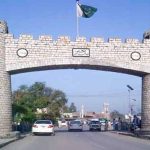 PESHAWAR: Sabir Mayar, an absconder in the Mashal Khan murder case has surrendered himself to Mardan police on Monday.
Mayar had gone underground in the university after the murder. "I am handing over myself to the police so that justice could be served to me," Mardan police quoted Mayar as saying.
According to the police, Mayar had been labeled a proclaimed offender 11 months ago, and with this surrender, suspect and offender Asad Katlang remains the only one still at large. "Mashal Khan was my close friend and worker," Mayar told the police. "The university administration knowingly leveled allegations against me and involved me in the case. I had asked the Khyber News to take Mashal's interview," he further added.
The suspect also said, "We had set up camps against fee hike, corruption and appointment on to positions a week prior to the incident."
Police investigation and actions are underway to arrest Katlang, the sought proclaimed offender in the case, according to Mardan's force.
Last month, the Supreme Court (SC) disposed of the Mashal murder suo motu case after conviction of several accused by an Anti-Terrorism Court (ATC).
A three-judge bench headed by Chief Justice of Pakistan Mian Saqib Nisar observed that as trial has concluded and the accused persons have been convicted, there is no need to further proceed.
A senior law officer from Khyber-Pakhtunkhwa told the bench that the provincial government has already filed an appeal against the acquittal of some accused persons.