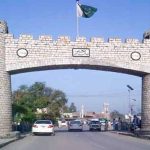 ISLAMABAD: Azad Jammu and Kashmir President Sardar Masood Khan has strongly condemned the killing of Qaiser Butt, who was deliberately run over and crushed by a vehicle driven by the Indian Central Reserve Police Force in Srinagar, in Indian Occupied Kashmir.
He said it was a deliberate and brutal act on the part of the Indian police to terrorize the Kashmiri people and silence their voice for freedom.
Masood Khan appealed to the international community to take notice of the heinous crimes by the Indian troops against peaceful demonstrators in occupied Kashmir, Radio Pakistan reported.
The AJK President shared the concern of Joint Resistance Leadership that in the recent weeks there has been a surge in civilian killings, desecration of religious places and terrorization of Kashmiri population by the occupation authorities.
He also demanded immediate release of the Joint Resistance Leadership, comprising Syed Ali Gillani, Mirwaiz Umar Farooq and Yasin Malik.