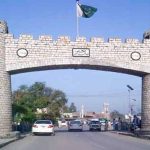 LANDIKOTAL: The massive snowfall in Landikotal area of Khyber tribal district has broken the record of 50 years. As the temperature reached -6 degrees centigrade, people mostly remained confined to their homes. Such like snowfall happened in Landikotal 50 years ago and it is stated that the current snowfall is even heavier than that.
Heavy Snowfall was followed by cold breeze which further added to the cold weather. People were informed by the media to stay inside their home due to harsh weather, and they did so, but they did not miss the opportunity to capture the lovely scenes of snowfall in their mobile phones.
Snowfall was also accompanied by power outages which troubled the local people. The difficulties of people multiplied as they did not have light, heaters and other facilities connected with electricity. The Health Department advised the people to stay inside homes and particularly keep the children warm to protect them from diseases like chest infection, flue, pneumonia etc.