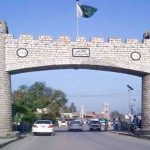 ISLAMABAD: Jamiat Ulema-e-Islam-Fazl (JUI-F) chief Maulana Fazlur Rehman on Tuesday met Pakistan Muslim League-Quaid-e-Azam (PML-Q) chief, Chaudhry Shujaat Hussain and discussed matters concerning country's politics.
The meeting took place in the federal capital at residence of PML-Q leader that continued for at least two hours.
Former prime minister, Chaudhry Shujaat and Fazlur Rehman discussed prevailing political situation in the country. Visiting Fazlur Rehman gave his viewpoint over national reconciliation.
Sources have reported that JUI-F chief will be convening meetings with leaders of different parties including Asif Ali Zardari to 'convince' them for efforts to strengthen democracy.