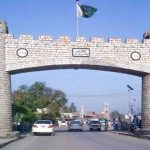 PESHAWAR: Chief of Jamiat Ulema-e-Islam-Fazl, Fazulr Rehman on Monday has demanded the government to conduct referendum in Federally Administered Tribal Areas (FATA).
While briefing the media in Peshawar, the JUI-F leader stated that he has reservations over the report presented in the parliament over reforms in FATA and demanded holding referendum.
He made his demand while saying that the government should determine the opinion of the locals in FATA, whether they wanted to join a province or wished reforms in the current system.
He also criticized Chairman of Pakistan Tehreek-e-Insaf, Imran Khan for his call to shut down the federal capital on October 30 by saying that no political party had a "lock" as big as that required to shut Islamabad.
Referring to the supporters of PTI, he said that the "shaheen" (eagles) had become butterflies by now.
Fazulr Rehman also censured those raising concerns over China-Pakistan Economic Corridor. He said that the project was initiated after approval of all the political parties.