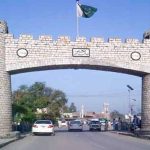 ISLAMABAD: Demanding fresh general elections in the country, JUI-F chief and Pakistan Democratic Movement (PDM) President Maulana Fazlur Rehman Wednesday said that they were considering to boycott the upcoming local government elections in Khyber Pakhtunkhwa.
Addressing a press conference in the federal capital, Fazlur Rehman said, "Local governments elected under a government which came to power through rigged elections are not acceptable."
Raising questions over the intentions of the PTI-led federal government, the JUI-F chief asked that why the local body polls were going to be held when the Election Commission of Pakistan was saying that it was verifying voter lists.
"It means the election commission has admitted that there is something wrong in voter lists," he said.
He stated that the JUI-F was consulting legal and constitutional experts on the issue to finalise the future course of action in this regard, adding that they will also discuss it with other PDM parties before announcing the decision.
On Oct 25, the ECP had announced that in the first phase, 17 districts of the province would go to the polls on December 19 and the candidates will start submitting their nomination papers from November 4.