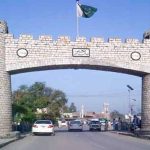 ISLAMABAD: Jamiat Ulema-e-Islam (JUI-F) chief Maulana Fazlur Rehman has rejected the electoral commission's claim that all parties were provided level-playing field in the election.
Talking to reporters, the JUI-F chief said "blatant rigging" paved the way for a Pakistan Tehreek-e-Insaf (PTI) victory in the elections. He demanded the electoral commission to reopen "every single constituency".
"PTI is involved in one of the worst horse tradings in election history. Nation won't accept a government that has come to the fore as a direct result of this horse trading," he added.
Fazl said the Muttahida Majlis-e-Amal (MMA) would take the decision to join parlaiment after consulting other political parties. He added that the multi-party conference would decide on protests against election results.
The Election Commission of Pakistan (ECP) earlier dismissed the demand of political parties for resignation of the chief election commissioner.
ECP Secretary Babar Yaqoob said that all parties were provided level playing field and that foreign observers also termed general elections 2018 were free and fair.
He urged the candidates to pursue legal framework for their grievances.