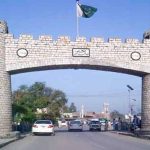 ISLAMABAD: Jamiat Ulema-e-Islam Fazl (JUI-F) chief Maulana Fazlur Rehman on Thursday thanked the Pakistan Peoples Party (PPP) Chairman Bilawal Bhutto in a telephonic conversation for supporting the 'Azadi March'.
According to sources, mutual interests were discussed between both leaders, Maulana Fazlur Rehman and Bilawal Bhutto. JUI-F chief expressed gratitude towards PPP Chairman for supporting his political march against the incumbent government.
Earlier, Pakistan Peoples' Party (PPP) Chairman Bilawal Bhutto Zardari had announced complete support for JUI-F chief Maulana Fazlur Rehman's ant-government protest and said that his party would welcome Azadi March.
"We have not yet been told anything about the march, however, we completely back JUI-F," he said.
Earlier, Maulana Fazlur Rehman said that the Azadi March convoys from across the country will leave for Islamabad on October 27 to enter jointly in the federal capital on October 31.