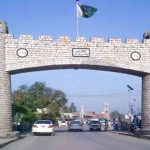 RAWALPINDI: Personal secretary of late JUI-S Maulana Samiul Haq, Ahmad Shah, has been arrested in Rawalpindi on Thursday.
According to reports, Ahmad Shah was arrested with the help of the family of Samiul Haq, who was assassinated in Rawalpindi in November 2018.
His personal secretary was the main witness in the case. However, he went into hiding after funeral prayer of late Maulana.