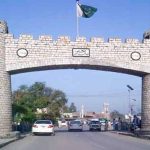 ISLAMABAD: Jamiat Ulama-e-Islam-Sami (JUI-S) chief Maulana Samiul Haq and JUI-F leader Maulana Abdul Wasay on Monday withdrew their nomination papers for the senate elections on general seat.
The general seat nominees in KPK Assembly Moulana Samiul Haq and Moulana Abdul Wasay withdrew their candidature.
Similarly, former Finance Minister Ishaq Dar withdrew his nomination papers on the general seat, however he will contest from the technocrat's seat.
Today is the last day to withdraw nomination papers for the Senate elections from the provinces.
According to the Election Commission of Pakistan (ECP), candidates can take back their nominations by 4pm today, after which the final list of candidates will be issued.The Senate elections from the provinces, Islamabad and Federally Administered Tribal Areas (FATA) will be held on March 3 as 52 out of the 104 senators retire on March 11.
In Balochistan, a total of 26 candidates, 15 on general, six on women and five on technocrats' seats, are in the run against 11 vacancies.
In Punjab, Punjab Election Commissioner Sharifullah said for the 12 total Senate seats from Punjab, there are 27 candidates.