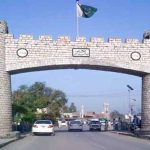 NOWSHERA: Minister of State on Interior Shehryar Khan Afridi visited Madrassa Haqqani at Akora Khattak on Monday.
He met with son of martyred Maulana Sami-ul-Haq and prayed for the departed soul of his father.
The Minister assured that killers will be apprehended soon and brought to justice.
Afridi said the martyrdom of Maulana Sami-ul-Haq is a great loss to Islam and humanity. He said that Maulana Samiul Haq played important role in Madaris reforms. He said that he would present detailed report regarding assassination of Maulana Samiul Haq to the prime minister on Tuesday.