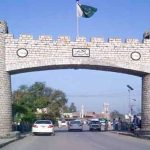 NOWSHERA: Son of assassinated Jamiat Ulema Islam-Sami (JUI-S) chief Maulana Samiul Haq, Maulana Hamidul Haq, was named acting chief of the party on Sunday.
Maulana Samiul Haq, an influential religious scholar and former senator, was stabbed to death at his residence in Rawalpindi on Friday. His son had said that the JUI-S chief's "driver-cum-guard went out for 15 minutes" and returned to find him dead.
"I have become an orphan," Hamidul Haq said after being announced as the party's acting chief. "Current party positions of all the members will remain the same."
He added, "Maulana Samiul Haq's killers should be arrested immediately."
On Saturday, a probe was launched into Maulana Samiul Haq's assassination as forensic experts and investigation officers collected evidence from his Rawalpindi residence.
Police took Maulana Samiul Haq's two domestic staff members into custody for questioning.
The staff workers told police that two men visited the JUI-S chief before his assassination.
In their initial statement to the police, the domestic staff members said, "The two men had visited Maulana Samiul Haq on several occasions before as well and wanted to meet him alone."
"The JUI-S chief sent us to the market to bring food and drinks," they further said.
"When we returned after 15 minutes, we found Maulana Samiul Haq lying in a pool of blood," the staff workers added.