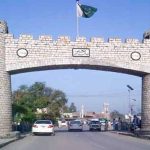 LAHORE: Actress Veena Malik on Monday agreed to reconcile with husband Asad Khattak after he apologized over his behaviour during an interview on a private channel on Monday.
Renowned religious scholar Maulana Tariq Jamil played an important role in resolving the issue between Veena and Asad.
Malala Yousufzai and her father also contacted Veena and Asad in an attempt to convince them to reconcile.
Veena Malik, who was apparently quite angry over Asad's behaviour claimed that her husband had beaten and disrespected her.
She said that he has this habit of apologising to her but repeat the same mistakes again.
Asad Khattak also sought apology from her wife and asked Maulana Tariq Jameel to guarantee Veena that he will not behave badly with the actress again.
The couple tied knot on December 25, 2013 and have two children together.
Veena filed for khula from Asad in on January 6, 2017 which was declared in favour of the actress on January 31, 2017.