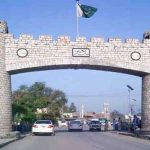 LAHORE: Former Punjab education minister Murad Raas announced his resignation from the Pakistan Tehreek-e-Insaf (PTI) and parting ways with Imran Khan over May 9 riots.
He expressed strong condemnation for the May 9 attacks and stated that such events were never part of the party's plans. He expressed his confusion about how things escalated to this point.
He further mentioned that more PTI leaders would be following his footsteps in the coming days. Raas believed that sometimes it is necessary to take a step back in order to move forward. He joined the party 15 years ago when it was relatively unknown and gave up his American citizenship for it. He stated that he had done everything within his capacity to contribute to the party's cause.
He emphasized that he and his colleagues believed in democracy and the power of the vote. They did not support excessive agitation and made it clear that they did not seek confrontation with institutions. He believed that differences with others could be resolved through negotiations.
The former minister expressed his frustration with the advisors surrounding PTI chief Imran Khan after his shift to Lahore. Raas suggested that the value of each advisor should be assessed before their advice is acted upon.
Raas extended his gratitude to his supporters, friends, and voters who stood by him. He acknowledged that it was a difficult time for him personally. He also mentioned that his ministry held the second-largest portfolio after the army, highlighting his significant role within the party.
Amidst the ongoing crackdown on PTI following the May 9 unrest, Murad Raas joined the list of leaders who have resigned from the party. During the press conference, Raas was accompanied by other leaders including Pir Ahmad Khagga, Raja Yawar Kamal, and Chaudhry Adnan. Raas blamed Khan's advisers in Lahore for the current predicament faced by the party.