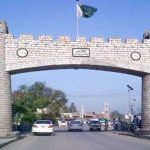 LAHORE: Defense Minister Khawaja Asif has stated that the attack on Jinnah House on May 9 and other violent incidents in different cities were planned acts of rebellion against the state.
Speaking to the media, Khawaja Asif expressed that what they had witnessed on TV screens in the past 14 to 15 days was completely different from the situation on the ground. He mentioned that the arson and damage caused to Jinnah House and the incidents that occurred throughout the country were all part of a planned agenda. "The series of events on that day and in various cities indicate a deliberate act of rebellion against the state."
He mentioned that preparations for these events took place about 8 to 10 days ago. He said that Imran Khanhas consistently targeted the Pakistani army. This is a matter of sorrow and anguish. Even here, the portraits of Quaid-e-Azam were burnt and destroyed, he said, adding that they were not truly Pakistani in their mindset and ideology. They did not even spare the martyrs. They insulted the memorials of those who sacrificed their lives.
It is evident that they were trained for this purpose, he said. It seems they were given training. No decision has been made so far regarding imposing ban on the Pakistan Tehreek-e-Insaf (PTI) movement, he added.