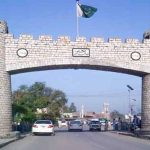 LAHORE: In a significant development, an anti-terrorism court (ATC) has granted permission for the transfer of 16 suspects involved in May 9 ransacking and vandalizing of Jinnah House to the commanding officer for trial in military courts.
ATC Judge Abher Gul Khan issued an order on Thursday, accepting the request made by an army officer who had sought custody of the vandals currently held in Camp Jail, Lahore. These individuals had been named in two separate cases related to the attack on Corps Commander House, also known as Jinnah House.
The accused individuals are identified as Amar Zohaib, Ali Iftikhar, Ali Raza, Muhammad Arsalan, Muhammad Umair, Muhammad Raheem, Zia-ur-Rehman, Waqas Ali, Raees Ahmad, Faisal Irshad, Muhammad Bilal Hussain, Faheem Haider, Arzam Junaid, former PTI MPA Mian Muhammad Akram Usman, Muhammad Hashir Khan, and Hassan Shakir.
The ATC order stated, "In view of the request made by Irfan Athar, Commanding Officer/Military Officer, duly forwarded by the prosecution as the case of the above-mentioned accused is exclusively triable by a military court, therefore, while accepting the request of the Commanding Officer u/s 549(3) Cr.P.C, read with Rule 7(f) of Criminal Procedure (Military Offenders) Rules 1970, Superintendent, Camp Jail, Lahore is directed to hand over the custody of the above-said accused to the Commanding Officer for further proceedings in accordance with the law."
The order further noted, "They are found guilty of offenses under Sections 3, 7, and 9 of the Official Secrets Act, 1923, read with Section 2(1)(d) and 59(4) of the Pakistan Army Act, 1952, exclusively triable by Military Court, to the acceptance of which learned DPG did not raise any objection and forwarded the request for appropriate orders."
This decision signifies the recognition that the crimes committed by the accused fall under the purview of military jurisdiction. The transfer of custody ensures that the legal proceedings will be conducted in accordance with the appropriate laws and regulations governing military offenses.