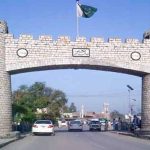 KOHAT: A man shot dead a medical college student in cold blood after she rejected his marriage proposal, Kohat police said on Sunday.
Aasma Rani, a third-year MBBS student at Abbottabad Medical college, was in her hometown Kohat on vacation when Mujahidullah Afridi opened fire on her, SHO KDA Police Station Gul Jan said.
The accused — nephew of Pakistan Tehreek-e-Insaf district president Aftab Alam — along with his brother, Sadiqullah Afreedi, was waiting outside the girl's residence.
He shot her thrice on Saturday after she stepped out of a rickshaw with her sister-in-law.
The girl succumbed to her wounds on Sunday evening after she was rushed to the hospital soon after the incident happened.
According to the deceased's family, Mujahidullah wanted to marry Aasma and had issued threats in the past too.
A case was registered against the accused, as the police continue to search for the fugitive and his accomplice.