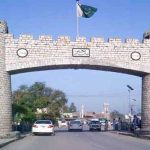 ISLAMABAD: Singer Meesha Shafi has challenged in the Supreme Court a Lahore High Court order in the defamation case filed against her by fellow singer Ali Zafar.
The Lahore High Court had earlier ordered that the case be wrapped up by April 15 instead of granting Shafi extra time for her lawyers to cross-examine the witnesses in the case.
She argued that the trial court didn't allow them to cross-examine the witnesses and that cross-examining them is their legal right.
On Wednesday, a local court in Lahore imposed a fine of Rs10,000 on Shafi after her lawyer failed to attend a hearing in the defamation case.
Zafar filed a defamation suit against Shafi after she accused him of sexual harassment. He denied the allegations and wants her to pay restitution for the damage to his reputation and leveling false allegations against him.
In April 2018, Shafi took to Twitter to accuse Zafar of physically harassing her on 'more than one occasion.' "This happened to me despite the fact that I am an empowered, accomplished woman who is known for speaking her mind," she said.