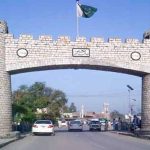 KARACHI: The Mehsud tribe Jirga has set up a protest camp in Sohrab Goth, Karachi to protest against the brutal murder of Naqeebullah Mehsud in a fake police encounter.
Naqeebullah Mehsud's family has also arrived the protest camp to participate in the protest against SSP Malir Rao Anwar. Strict security measures have been taken at the place.
The Jirga of Mehsud tribes and local people have put in place a camp at Sohrab Goth to make security arrangements before the arrival of Naqeeb's family.
The Jirga has called upon the police investigation committee to visit the camp if they want to see members of Naqeeb's family. The Jirga has said anyone who wants to meet Naqeeb's family should come to the camp. It is Naqeeb's family that will get the case of Naqeeb's murder lodged, the Jirga decided.
While addressing to the camp participants, Naqeeb's father said that his son had no affiliation with any terror outfit. He maintained that Naqeeb was a peace lover and a proud Pakistani. He said that SSP Rao Anwar had claimed that Naqeeb has no relatives, however now the whole Mehsud tribe, all the Pukhtuns and Pakistani nation has stood demanding justice for the martyr.
Naqeeb was allegedly killed by police during a raid on, what they claimed was, a "terrorist hideout" in Karachi. The encounter was declared suspicious afterwards.
The killing of 27-year-old had sparked protests across the country with Karachi's Sohrab Goth witnessing a violent outrage on Friday.