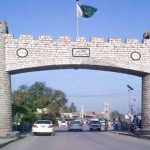 ISLAMABAD: Pakistan Meteorological Department (PMD) has predicted rainfall in Punjab and Khyber Pakhtunkhwa from Monday evening whereas heat intensity will continue to persist in other areas of the country.
Mainly hot and dry weather is expected in most parts of the country during the next 12 hours. Scorching weather is likely to prevail over upper Sindh and its adjoining areas of Balochistan, plain areas of Punjab and Khyber Pakhtunkhwa.
Dust-thunderstorm/rain with gusty winds is expected at isolated places in Malakand, Hazara, Peshawar, Mardan, Kohat, Bannu, D.I. Khan, Rawalpindi, Gujranwala, Sargodha, Multan, D.G. Khan divisions, FATA, Islamabad, Gilgit-Baltistan and Kashmir.
Temperature of various cities including Lahore, Rahim Yar Khan, Bhakkar, Dera Ghazi Khan, Bahawalpur and Noorpurthal is expexted to surge upto 45 degrees. Meanwhile in Karachi, heat intensity will be less than usual as the mercury level will probably remain between 35-37 degrees.
Continental air is prevailing over most parts of the country. A westerly wave is likely to enter upper parts of the country on Monday and likely to persist during next 2-3 days.
Temperature of some major cities recorded on Monday morning was:
Islamabad 32°C, Lahore 35°C, Karachi 30°C, Peshawar 33°C, Quetta and Gilgit 19°C, Murree 22°C and Muzaffarabad 21°C.