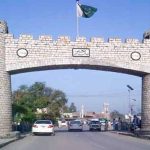 PESHAWAR: Awami National Party leader Mian Iftikhar Hussain has urged an 'across the board' operation that does not discriminate between targeted militants.
"Military operation should be held across the board and mustn't discriminate between good and bad terrorists," he said.
The ANP leader condemned the suicide attack on census team in Lahore.
Yesterday census team in Lahore was attacked by a suicide bomber on Bedian Road, killing six people including four military personnel.