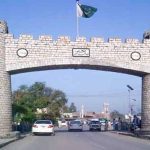 ISLAMABAD: Chairman Pakistan People's Party (PPP), Bilawal Bhutto Zardari has said that military action should be taken against those who challenge writ of the state.
In an interview with a foreign news agency; Bilawal, however said that solution to extremism does not lie in military action advising that a comprehensive strategy should be chalked out against it.
He added that reforms should be introduced in education, syllabus and judiciary to eradicate the menace of extremism from the country.
Responding to a question, the PPP Chairman said that the former president Retd Gen. Pervez Musharraf had threatened his mother – Benazir Bhutto – adding that a witness had also appeared in court in this connection.
"Musharraf claims he is able to defend himself", said and Bilawal and asked the former president as to why he was not facing the charges framed against him.
He added that Musharraf was also accused of treason and killing the former chief minister Balochistan Akbar Bugti but he was avoiding courts.
Responding yet another question, he said that such a collective approach is required which not only focuses on eradication of terrorism but the elimination of extremism.