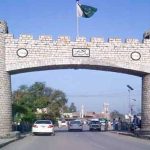 ISLAMABAD: Decorated contingents of Pakistan Army, Pakistan Navy and Pakistan Air Force (PAF) carried out Pakistan Day Parade in Shakarparian Ground, Islamabad today (Friday).
The 78th Pakistan Day is being celebrated with traditional zeal and enthusiasm to mark the passage of the Lahore Resolution that led to the creation of a separate homeland for the Muslims of South Asia in 1947. The historic resolution, known as the Pakistan Resolution, was approved on March 23, 1940.
The parade was held in the presence of Prime Minister (PM) Shahid Khaqan Abbasi, Chief of Army Staff Gen Qamar Javed Bajwa, Chief of Naval Staff Admiral Zafar Mahmood Abbasi and Air Chief Mujahid Anwar Khan.
The special feature of this year's parade is Sri Lanka's President Maithripala Sirisena's participation, who was the guest of honour of the event. The participation of Sri Lankan president in the parade is a demonstration of close friendly ties between the two countries.
President Mamnoon Hussain was also invited as the chief guest of the event.
Contingents from friendly countries including China, Turkey and UAE participated in the parade at the official ceremony. This year, it is the first time that a contingent from the UAE military also paraded along with Pakistan armed forces.
Mechanised columns of various prestigious services of the country exhibited inventory of highly sophisticated and modern weaponry and arsenal. Pakistani armed forces displayed tanks, jets, drones and other weapon systems in the parade.
Civil organisations also showed their material presence at the parade by exhibiting floats, depicting developments achieved by the country, besides the regional culture and heritage.
It is to be mentioned here that the day was dawned with a 31-gun salute in the federal capital and a 21-gun salute in the provincial capitals.