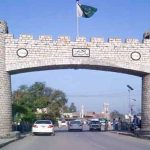 ISLAMABAD: Federal Minister for Water Resources, Syed Ali Zafar Wednesday directed for calling the meeting of Ministerial Committee, which has already been constituted, to resolve the issues of Diamer Basha Dam Project (DBDP), with representation of Gilgit Baltistan government to resolve the issue of resettlement.
The direction was given during a meeting convened by the minister, said a press release issued here Wednesday.
Different issues causing hindrances in implementation of DBDP were discussed in detail including resettlement of affectees and boundary dispute between GB and Khyber Pakhtunkhwa.
The minister also directed to convene meeting of another Ministerial Committee for unresolved boundary dispute between KP and Gilgit Baltistan to deliberate and resolve the issue at the earliest.