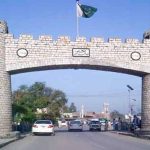 ABBOTTABAD: A six-year old girl Atya fell to death while travelling in lift on Monday and lost her life at Village Ghari of Lora Circle while her elder sister who is eight years old Aysha sustained injuries.
According to the details, owing to the alleged negligence of the lift operator six years old girl fell off the lift when the operator Hameed son of Saeed resident of Ghari started them lifting off when the two minors had not properly settled.
Resulting the younger Atya fell and died on the spot while elder Aysha got injuries and shifted to hospital for treatment.
During the year 2017-18 several accidents of dolly lift have occurred in Hazara division where more than dozen people have lost their lives. After the accident of Lora circle where in May 2017, 11 person died when a dolly lift fell into the ravine, provincial government and district administration banned homemade dolly lifts and started inspection of the lifts which was continued for few days.
As the days passed matter of the accident buried under the files, owners and contractors of the lifts have again started the routine operation without any precautionary measures where even most lifts have no doors and commuters have to sit in open lift where usually have to pass the thousands of feet deep ravines moreover the owners have no fitness certificates of the lifts and operator have no valid training or experience for their job.