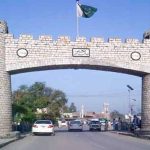 SWABI: The medical reports of a ten year old girl killed in Yar Hussain area of Swabi have confirmed that she was raped before being hanged to death.
According to details, dead body of the minor girl was found in fields at Ormal Dheri area of Yar Hussain on Wednesday evening.
The deceased girl had come from Karachi to her aunt's house and was abducted when she was playing outside.
The accused then hanged her to death after rape and dumped her body in the fields.
Meanwhile, aunt of the deceased girl nominated a person named Waqar in First Information Report (FIR) she lodged with the police.
The police arrested the accused.