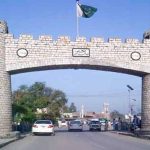 ISLAMABAD: Muttahida Majlis-e-Amal on Wednesday announced to hold rallies in Multan, Rawalpindi and Karachi on July 13, 14 and 15 respectively for electioneering.
Speaking in a press conference after the alliance's supreme council meeting, the MMA leader Maulana Fazlur Rehman said that a list of candidates has been formulated.
"191 candidates for the NA seats, 404 candidates for the provincial seats and as many as 35 women are contesting for the general seats on MMA ticket," he said.
"We will visit Abbottabad on July 21 and Malakand on July 22," he announced.
Rehman said that the caretaker government holds the responsibility to conduct transparent and on-time elections, adding that there should not be the influence of NAB and courts on the polls.
"Few days back a man traveled abroad despite being named in the ECL," Rehman said in reference to the Zulfi Bukhari case.
The MMA leader said that the religious-political parties alliance wants timely elections as according to the constitution.
Responding to the PTI chief, who recently called him 'a magnet drawn to power' as he becomes a coalition partner with every ruling party, Rehman said that a magnet does not draw but attract others towards it.