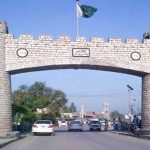 CHAKDARA: Muttahida Majlis-e-Amal (MMA) has formally announced to withdraw its candidate from NA-3 Swat Maulana Hujjatullah in favor of Pakistan Muslim League-Nawaz (PML-N) President Shehbaz Sharif.
In a joint press conference with PML-N leader Engineer Amir Muqam in Chakdara, MMA's provincial chief Maulana Gul Naseeb Khan said that the central chief of MMA Maulana Fazl-ur-Rehman himself has taken the decision.
In light of this, Hujjatullah said, he formally announce to withdraw Maulana Hujjatullah and order his party workers to support Shehbaz Sharif in the upcoming general elections.
He also called upon the stalwarts of MMA to put in all out efforts for the success of PML-N President.
For his part, PML-N leader Amir Muqam while thanking MMA and Maulana Gul Naseeb Khan for their support and said that this decision would result in development of the people of Swat.