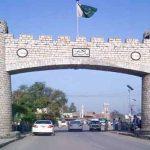 BANNU: Akram Durrani, a candidate of the Muttahida Majlis-e-amal (MMA) has retained his PK-90 Bannu seat after a vote recount.
According to a notification issued by Returing Officer, MMA candidate Akram Durrani retained his victory with a minor difference of 28 votes by bagging 32,795 votes while his rival PTI candidate Malik Adnan secured 32,767 votes.
The recounting was made on the request of PTI candidate Malik Adnan who had raised objections about the poll results.
In Khyber Pakhtunkhwa Assembly, the ECP received results of 96 out of total 97 seats out of which PTI took 66 seats while MMA, ANP, PML-N, and PPP won on 10, 06, 05, and 04 seats respectively.
According to the election commission of Pakistan, the voter turnout in the National Assembly elections remained 51.85 percent.
The highest voter turnout of 55.09 percent was recorded in the Punjab assembly elections followed by Sindh 48.11, Khyber Pakhtunkhwa 45.52 and Balochistan assembly 51.85 percent.
On Wednesday last week, millions of Pakistanis voted to elect a new government and prime minister in a peaceful elections held in free, fair and transparent manner.
Around 800,000 police and military forces were stationed at more than 85,000 polling stations across the country as the voting took place.
Wednesday's election was only the second democratic transition of power in Pakistan s 70-year history.