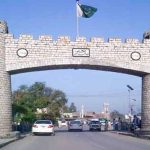 PESHAWAR: Pashtun Tahafuz Movement (PTM) leaders and members of National Assembly Mohsin Dawar and Ali Wazir have been released from Haripur jail on the completion of the process, two days after their bail application was approved.
Peshawar High Court had approved petitions filed by Mohsen Dawar and Ali Wazir who were arrested after a clash between protesters and military personnel in North Waziristan.
Family members of both MPs and their lawyers have confirmed their release, and photos and videos of Mohsin Dawar and Ali Wazir are being shared after being released from jail on social media.