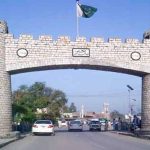 KARACHI: An earthquake of magnitude 4.9 on the Richter scale rocked Nawabshah, Hyderabad, Hala and Sun areas of Sindh on Friday night.
According to Pakistan Meteorological Department (PMD), the epicenter of the earthquake was located 60 km Northeast from Nawabshah at a depth of 20 kilometers.
Rescue officals said that at least four people were injured as wall of house collapsed in Sun area but no loss of life so far.