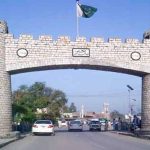 ISLAMABAD: A 5.5 magnitude earthquake hit the upper parts of Pakistan on Saturday afternoon.
According to details, the epicentre of the quake was Afghan – Tajik border. The depth of the earthquake was 388 kilometres in radius.
The tremors were felt in Islamabad, Malakand, Dir, Chitral, Rawalpindi and Peshawar.
No casualties and damage has been reported so far.