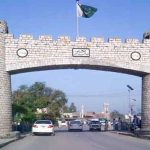 PESHAWAR: An earthquake measuring 5.1 on the Richter scale rocked various cities in Khyber Pakhtunkhwa (KP) including Mansehra, Lower Dir and Swat today (Tuesday).
People came out of their homes in panic and started reciting verses from the Holy Quran. No loss of life was reported due to earthquake.
Earlier in October, a 7.5-magnitude quake ripped across Pakistan and Afghanistan, killing nearly 400 people and flattening buildings in rugged terrain.
For many in Pakistan, October's quake brought back traumatic memories of a 7.6-magnitude quake that struck in October 2005, killing more than 75,000 people and displacing some 3.5 million.
Afghanistan is frequently hit by earthquakes, especially in the Hindu Kush mountain range, which lies near the junction of the Eurasian and Indian tectonic plates.
In Nepal, a quake in April and a strong aftershock in May killed more than 8,900 people.