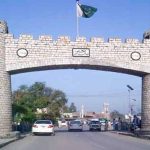 SWAT: An earthquake of 4.2 magnitude Friday hit Swat and its adjacent areas spreading fear and panic among the people.
According to details, the epicenter of the quake was the border area of Pakistan, Afghanistan and Tajikistan at the depth of 20 kilometers. The officials confirmed that no casualties or injuries were reported.
Let it be known that an earthquake of 5.6 magnitude had earlier jolted Islamabad, Rawalpindi, parts of Azad Kashmir and Gilgit-Baltistan. The geologists reported that 256 earthquakes were recorded in 2019.
The epicenter of most of the earthquakes was the Hindu Kush range. Maximum number of earthquakes was 32 recorded in August.